Here to Reality, en beskrivning av Baseline™ Reporting:
From Here to Reality – Filling the Gap After GAAP.
This summary was prompted by reading "The GAAP Gap. Corporate Disclosure in the Internet Age" by Robert E. Litan and Peter J. Wallison published in year 2000 by AEI-Brookings Joint Center for Regulatory Studies, Wasington DC. The authors of this paper outline a clear need for new systems giving more in-depth and timely pictures of company features than accounting-based systems can offer. Tentative efforts at such systems have been made, e.g. Kaplan-Norton: "The Balanced Scorecard", PricewaterhouseCoopers´ "Value Report­ing", Arthur Anderson´s "Cracking the Value Code", the "Skandia Navigator" and other work on "intellectual capital", etc.

One such system is Baseline™ Reporting, described in more detail in "Performance-Based Reporting. New Management Tools for Unpredictable Times" by Hans V A Johnsson and Per Erik Kihlstedt. Compared with, and in most cases contrary to, other systems, Baseline offers:

A well-tested (more than 1,500 cases) and practical, not theoretical, model.

An all-inclusive view of the company, not a selective view, as other systems present.

A general system (as long as the businesses operate in a market system), not limited to a certain industry, size group, or legal system, which facilitates investor and other com­parisons between companies and businesses without such limitations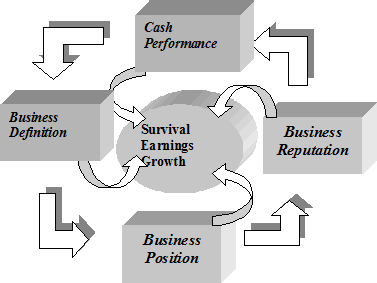 A systematic way to monitor "new fundamentals", broad indicators of company success or failure in the twenty-first century, "the fourth economy". The new fundamentals include four "Baseline" groups of value drivers, which can be used as proposed, or modified, if necessary, to adapt to specific situations and conditions.

A well structured way to create a clear "Business Definition", the starting point for all company assessments, which no other system seems to recognize.

A unique computer-supported way to define and measure (!) a company´s Business Position, its crucial relationships, indicators of company success or failure, classified in four distinct categories, and measured on a 1 – 3 scale.

Computer support, which no other system seems to offer, to provide speed, objectivity (=unbiased assessment) and complete repeatability, as well as clear graphic summaries of essential conditions.

A sensible way to structure, manage, and measure (!) a set of emotional and intellectual value drivers, in five defined Stakeholder categories. Most other systems, if they include such conditions for company success or failure, seem to suggest a more limited selection.

A link to accounting data, through "Cash Performance," linking cash flow to company strategies, which no other system seems to offer.

A model that measures (!) a critical, perhaps the most critical, indicator of company success or failure, the company´s "Freedom to act", and ranks the company´s FTA with other companies, on a numbered scale.

Finally, it is a model that can be used, and has been used, in all kinds of situations where broad data are needed for a complete evaluation of a business, including support for:
Strategic board and management decision-making
Stakeholder and analyst reporting
Bank lending processes
Investment decisions
Auditing and Risk Management
"Due Diligence", e.g. to increase the success rate of mergers and acquisitions

The Baseline fundamentals also comply, in all essentials, to Professor Baruch Lev´s three criteria, as presented in the "The GAAP Gap", of being quantitative, standardized (or standardizable), and user-relevant.

Something needs to be done – fast. When present practices and norms, like GAAP and other accounting-based methods, lose the usefulness and relevance they may once have had, we need something more comprehensive than legislative and regulatory Band-Aid "solutions" like Sarbanes-Oxley and Basel II.

Are we prepared to do something serious in the new situation or are we closing our eyes to the dangers of continued adherence to outdated accounting, an approaching tsunami of public non-confidence in business? Baseline Reporting shows one way to a viable solution.